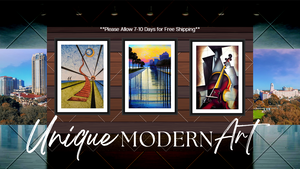 Designer Apparel | Unique Gift Items | Merch
Public Art Install | Acrylic Fine Artwork
(Example of our Premier Acrylic Fine Art Product)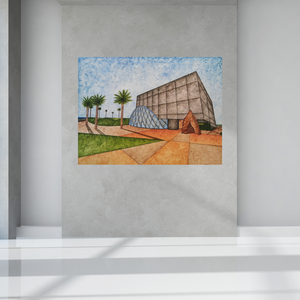 ARTIST BIO
Fine Artist
Erik Hesson is a self-taught artist and writer who has been developing his style and mastering his craft for decades.

Claiming to have initially learned how to paint in a highly-cognitive dream state, his artistic journey has truly been an exploratory and experimental process throughout its many phases. For a vast majority of the time, variations of Abstract Expressionism were his style of choice; with some Geometric Abstraction and a few other styles like Impressionism being experimented with as well.

Feeling confident after a few years of developing his style and skill, which includes a unique texture and shading technique that introduces a new way of capturing light, he created an innovative new art style called Linear Perspectivism. A scene is represented from a single perspective, using basic geometric forms, dynamic texture and vibrant colors to create an idealized three-dimensional abstract composition.

With this new style, Erik is attempting to create a new visual language in art, one which uses the Classical Principle of Linear Perspective as the predominant construct of the composition/aesthetic, as opposed to being an underlying design element.

"What Cubism did to the Cube, Linear Perspectivism does to Linear Perspective," he says. Linear Perspectivism has three main influences: Kandinsky's Geometric Abstraction, Picasso's Cubism and the Classical Principles of Linear Perspective and Proportion.

Erik has since founded the new art website UniqueModernArt.com in early 2022. And in November of that same year, he was approved for a Solo Exhibit at the Dali Museum in St. Petersburg, Florida; where he is currently exhibiting works from his Linear Perspectivism Collection and his Faces of Dali series every Thursday, Friday, and Saturday from 1-4pm on the patio near the Main Entrance on an on-going basis. He is currently planning his 1st Solo Art Show for Summer of 2023.

Erik's writing career began in 2020 when he became a songwriter, and he has currently written 40 original songs in that time period and has self-produced and released 10 of them thus far on all the main digital streaming platforms. He has also written 3 Non-fiction books and self-published them exclusively on Amazon and Kindle: 'Master Mind: Elon Musk', 'Master Mind: Edgar Cayce: A Real Universal Hero', and 'Elon Musk vs. Bill Gates: A Rivalry For The Ages'. He is also currently writing and will self-publish a biography/visual art book consisting of his entire body of work as a visual artist, titled 'Unique Modern Art', which will be released exclusively on Amazon and Kindle in January 2023.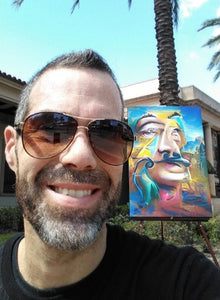 Our Foundational Purpose/Passion:

Bringing people together and uniting everyone for the common good. -There are many divisive influences in the world, and we need to rise above those and come together. We need to realize that we are all special and unique; and yet at the same time, we are also co-dependent on one another in order to live a healthy, happy, sustainable life on this planet. And life is much better and more beautiful when we embrace others as brothers and sisters. Our St Pete community and the Global Art Community are wonderful examples of that neighborly sentiment and kinship... This site is a tribute to Innovation, our great city of St Pete, and to Art and its enriching impact in the world. Please Enjoy our high-quality Artworks and selections of Framed Prints and Unique Gift Items... Thanks for visiting and we look forward to meeting everyone and getting to know each of you... Stay connected here and on social media (search: Erik Hesson) to see new artworks regularly and new events etc...
Thank you, Friends and Neighbors
Erik Hesson - Artist, Founder/CEO